Time and Date: 14-16 September 2022
Location: Hospital de Clínicas Manuel Quintela - Montevideo, Uruguay
Conference fee: Free of charge
Exchange of Experience VII is co-organized with Latin America BioImaging and will take place straight after the Latin America BioImaging kick-off meeting (12-13 September 2022).
The annual conference represents an open forum for discussion and new ideas, where imaging facility managers and technical staff, scientists, science policy officers, vendors and funders from around the globe will come together to discuss how Imaging can contribute to sustainable development.
Exchange of Experience VII has been selected as a satellite event at the International Conference on Research Infrastructures ICRI 2022 (in Brno, Czech Republic), increasing the event visibility and further promoting an opportunity to discuss Imaging and Sustainable Development Goals.
REGISTER HERE:
To register for the Exchange of Experience VII, please complete the registration form here
Registration Deadline: 05 September 2022
TRAVEL GRANT APPLICATION: is now CLOSED!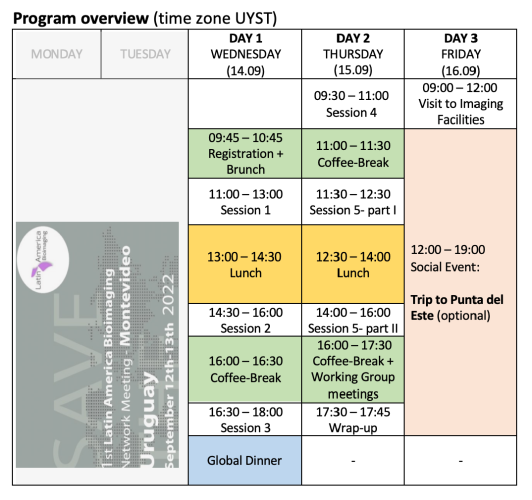 NOW AVAILABLE: DETAILED PROGRAM!!
SPONSORED BY:

"ZEISS Research Microscopy Solutions is the world's only one-stop manufacturer of light, electron, X-ray and ion microscope systems and offers solutions for correlative microscopy. The portfolio comprises products and services for life sciences, materials and industrial research, education and clinical practice."